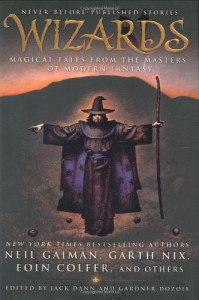 While reading this book, I just came across this article: http://factualfacts.com/funny-facts/a-man-tried-to-rob-a-bank-after-paying-500-to-a-wizard-to-make-him-invisible/
It's pretty unusual that an anthology ever gets more than 3 stars from me - after all, tastes differ, and in any random selection, there's bound to be a few stories I think are great, and a few that don't do much for me. However, this anthology was, really, really good. I'd say 4.5 stars.
Contents:
Neil Gaiman - "The Witch's Headstone". (2008 Locus Award winner for best Novelette.) The story later turned out to be a chapter in 'The Graveyard Book,' so I'd already read it. But it was worth reading again.
Garth Nix - "Holly and Iron". A female Robin Hood in an alternate-history "Ingland" is shaken when her poor tactics lead to her sister's death. Will she be able to find a way to unite a divided country?
Mary Rosenblum - "Color Vision." I've read Rosenblum's first two novels (because they were part of the Del Rey Discovery series, which featured a bunch of great new authors) - but apparently she's published 8 books since then! I might have to try some catching up! This story is a teen sci-fi piece, about how a young girl's synaesthesia turns out to be a lifesaver, when the new school principal turns out to be a villain from another world.
Kage Baker - "The Ruby Incomparable." Kage Baker is truly missed. I only have a few more books by her to read, and I've sort of been saving them, since I know no more are coming... Here, she tells the tale of a fairy-tale marriage between Pure good and Pure evil. The story is available for free online: http://www.lightspeedmagazine.com/fiction/the-ruby-incomparable/
Eoin Colfer's - "The Fowl's Tale." I'm not a huge Colfer fan (didn't like Artemis Fowl), but this story's only 5 pages long, so it doesn't grate. Amusing tale of a greedy parrot who shows up at court with a tale to tell...
Jane Yolen - "Slipping Sideways Through Eternity." A modern Jewish girl meets the Prophet Elijah, who takes her on a trip through time, helps her understand her heritage, and inspires her for the future.
Tad Williams - "The Stranger's Hands." A village takes in two wanderers - a man who seems to have lost his wits in an injury, and his caretaker. Soon, it is discovered that some who touch the disabled man's hands have their heart's desire magically granted. Soon, the needy flock to the town in hopes of having their wishes granted. But with greater exposure comes the revelation that the village's miracle man is (or was) actually one of the most powerful, dangerous, and evil wizards around. Is there some trick here? A well-crafted and thought-provoking tale.
Patricia A. McKillip - "Naming Day." A young woman eagerly anticipates her 'naming day,' when her magical academy conducts a ceremony in which the students choose their magical name. But her mother has a lesson about values to teach her daughter.
Elizabeth Hand - "Winter's Wife". Hand is really good at short stories, and this in no exception. This was probably my favorite in the book... about a 'mountain man' from Maine, who marries a bride from Iceland that he met on the Internet. When a developer starts destroying ancient trees, something must be done...
Andy Duncan - "A Diorama of the Infernal Regions, or The Devil's Ninth Question." I'd read this Southern Gothic piece before (in Fantasy: The Best of the Year, 2008) but again, it was worth re-reading. Basically, a girl runs away from working in a sideshow, ends up living in a witch's house full of ghosts, and meets the devil... but there's more to it than that.
Peter S. Beagle - "Barrens Dance." The reason I got this book - I was looking for more from Peter Beagle. This story is redolent of ancient myth, as it tells the story of what a woman must do to escape an evil wizard's unwanted advances.
Nancy Kress - "Stone Man." Under stress, a boy discovers he has heretofore-unknown magical powers. it loses him a friend, but gains him a new group of friends and a mission in life... Not Kress' best, but not bad.
Jeffrey Ford - "The Manticore Spell." A monster might be dangerous - but also sublime: endangered and strangely beautiful. Should every monster be killed?
Tanith Lee - "Zinder." By day, Zinder is a deformed dwarf who lives in an impoverished village, tormented by ignorant bullies. But by night he is a powerful wizard, who travels the world, dispensing advice and magical boons amid glittering courts, and doing good deeds for the needy. Kind of a retelling of the Biblical tale that Jesus may be disguised as any lowly beggar... written with Lee's own poetic language and lovely imagery.
Terry Bisson - "Billy and the Wizard." Short, surreal tale of a boy who finds a wizard in his garage. Not my favorite, but I can see why others would like it.
Terry Dowling - "The Magikkers." If someone told you you had only enough magic for one true spell - and then asked you to give away that magic, would you?
Gene Wolfe - "The Magic Animal." Sometimes I love Gene Wolfe, and at other times I feel that his stories go off track due to their ambition. This Arthurian tale verges toward the latter, but there are still some lovely aspects to it.
Orson Scott Card - "Stonefather." This novella is apparently in the world of Card's 'Mithermages' series (2 books published so far; haven't read either yet.) However, I probably will - this is a good (if a bit typical) high fantasy story, with an original take on earth/water magic and an interesting setup.